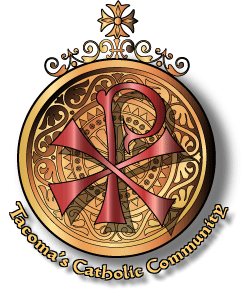 Church of the Visitation
South East Tacoma Cluster Parish
3314 S 58th St.
Tacoma, WA 98409

(253) 473-4960

Fax: (253) 474-8378
Rev. Tuan V. Nguyen, D.D., Pastor
Rev. Cal R. Christiansen, Parochial Vicar
Rev. Jacob M. Maurer, Parochial Vicar
Rev. Gilberto Mora-Tapia, Parochial Vicar
Rev. Poao Saena, Parochial Vicar
Visitation Parish was founded by the Benedictine Fathers in 1892, although the beautiful Gothic church only found its current home at 58th and Warner in 1912. Bishop Edward J. O'Dea dedicated the new building on June 15, 1913.
Today, Visitation is still active in the community. Outreach programs and groups include the food bank, Knights of Columbus, Phoenix Housing Network, Women's Club, needs-based assisstance, and many other programs.
Visitation joined the South East Tacoma Cluster in 2006.
---
Liturgical Schedule
All Masses celebrated in the Ordinary use of the Roman Rite in English.
---

Mass

Saturday Vigil

5:00PM

Sunday

8:30AM
11:00AM

Mon, Wed, Thur, Fri

9:00AM

Holy Days

please contact parish

---

Reconciliation

Saturday

4:00PM

---

Adoration of the
Blessed Sacrament

Monday

9:00AM to 12:30PM

Tuesday

4:00PM to 7:00PM

---

Mass and Benediction of the Blessed Sacrament

1st Saturday

9:00AM

---